Thank you for choosing Servair Heating & Air Conditioning. It has been our pleasure and privilege to serve Southeast Florida for 43 years. Nearly 70 percent of our business comes from referrals made by satisfied customers and to them we are truly grateful. We look forward to providing you the same level of exemplary service that has become synonymous with the name Servair.
In light of extended warranties being offered by manufacturers, maintaining your air conditioning equipment is becoming more important than ever. Manufacturers require maintenance by a certified contractor to keep the warranty valid. Therefore, we highly recommend you consider a service or maintenance agreement. Your Servair Technician will be able to assist you in choosing the right plan for you.
At Servair we value Honesty, Caring, Teamwork, and Service Excellence. A recent customer warmed our hearts by saying, "Good work done by courteous people. We trust you!" Our goal is to earn your trust in the same manner: good work done by courteous people.
We consider our customers to be like family so, "Welcome to the Servair family!"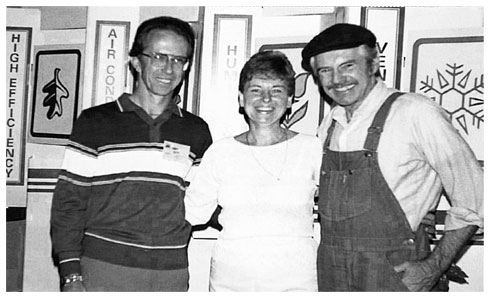 It's a long way from Richmond, Indiana to Edgewater, Florida (1088 miles to be exact), and an equally long career jump from Metropolitian Life insurance salesman to having owned a thriving air conditioning and heating company. Along the way, there were a few bumps and bruises for the business, but the rewards were many.
Gary and Frieda Butt, along with partner John Eskew, opened Servair in Edgewater in1978. Eskew left the business in 1980 and retired. Gary, a NASCAR enthusiast and golf whiz — he shot several holes-in-one — quickly became involved in the Edgewater community. Gary and Frieda also raised two children, Chris and Julie, and could proudly boast about not only four grandchildren, Caitlin, Colton, Josh, and Levi, but also two great grandchildren, Madison and Olivia.
Gary became a charter member of the local Rotary Club in 1982 and never missed a meeting. Along the way, he held about every office, from Director to Vice President to chapter President. He was Chairman of Rotary Park, Outstanding Director and Outstanding Vice President. Obviously, he didn't just show up. He gave his heart. Pete Stanton, owner of the alarm company Security Center, a fellow Rotarian, and a friend of Gary's for over 20 years, was quick to acknowledge Gary's contribution to the Club and the community. "He helped wherever he could, through his own labor and his company's financial support.
"He was really one of the biggest proponents of Rotary in our community. The guy was soft-spoken, he treated you fairly in business and in life, and when he said he was going to do something, he got the job done — and done right."
Rotary isn't the only organization that benefited from Gary's time and energy. His generosity spanned the community from local baseball sponsor, March of Dimes and the Shriners. Gary's participation was also evident with city government by his serving on the board of Adjustments, Building Trades Regulatory & Appeals board and the Firefighters Pension Board. He was also on the Board of Directors for the Southeast Volusia Chamber of Commerce, a member for 17 years.
Chamber Executive Director Samantha Bishop was also generous in her praise.
"Gary was always very community-minded, always helped with events. Not only was he one of our great local business people, he was someone who, if all he had was the shirt on his back, he'd give it to you. He knew everyone in town, and they loved him."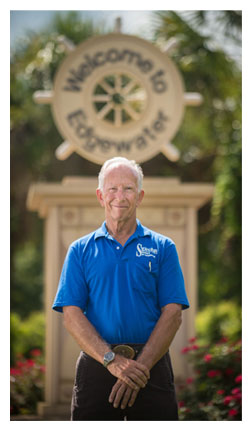 He was also an independent contractor for the local Habitat for Humanity for four years, providing all air conditioning and ductwork for Habitat homes at reduced rates. Servair is an Energy Star Certified contractor. Executive Director Rosemary Walker for Habitat lauded his involvement in donating his time, talent and enthusiasm to secure this certification.
Gary's son Chris now serves as President of the company since his father's passing. His career with Servair began when he was sixteen years old and now spans four decades! Julie Roberts serves as Office Manager. A staff of technicians serve Edgewater, New Smyrna Beach, Oak Hill, Port Orange, South Daytona Beach, and Daytona Beach as well as many of the unincorporated areas of Volusia County.
The company has built a reputation for outstanding work performed at fair prices, with courtesy and professionalism. Progress was steady and Servair survived the recession with minor ill effects.
One area did become clear, though. With the increasing reliance on technology, the company made the decision to move from ledger-based system to a computerized system. This has helped Servair remain viable in an ever changing economy.
"Servair depends on referrals and word of mouth from our current customers. We feel that this is the highest praise our customers can give us," Gary stated. Servair is a Elite Dealer for Tempstar, and their relationship with the Tempstar supplier in Daytona Beach is a strong one. Gary, Frieda and Chris Butt have built a successful business and a stellar reputation in the Edgewater area. "Having a family-run business has always been a goal," said Gary. "There's tremendous support, of course, from my team. I couldn't do this without them. But it's a different feeling when it's your family working side-by-side with you."